Cybershield offers three options for plating plastic. With functional and decorative metal coatings on plastic.
Electroless plating onto all surfaces
Electroless plating onto selected surfaces
Electroplating onto all surfaces (note that an initial electroless plating layer of nickel or copper is first required to electroplate)
Plating plastic is a popular choice with our customers to address a wide range of engineering requirements, including:
EMI shielding, RFI shielding
ESD prevention
Plated Plastic Antenna, Waveguides or RF Filters
Wear Resistant Surfaces over plastic
Heat Resistant Surfaces/Thermal Barrier over plastic
Chemical or Vapor Barrier over plastic
| Plating System | Metals Deposited | Typical Metal Thickness |
| --- | --- | --- |
| All-over Electroless Plating | Copper, Nickel, Tin, and Gold | From 40 micro-inches (1 µm) to 2,000 micro-inches or 0.002" (50 µm). Note that plating thick electroless plating layers can be time consuming and costly. |
| Selective Electroless Plating | Copper, Nickel, Tin, and Gold | From 40 micro-inches (1 µm) to 400 micro-inches or 0.0004" (10 µm) |
| Electroplating | Copper, Nickel, Chrome | From 120 micro-inches (3 µm) to 4,000 micro-inches or 0.004" (100 µm) |
Some important facts to know about plating on plastic
Electroless plating deposits uniform thickness over the entire surface of the part, which may be important for applications where consistent surface conductivity or metal skin depth is required.
An initial strike of electroless copper or nickel is required before electroplating to provide a conductive surface on which to electroplate.
Electroplating deposits metals at much faster rate (close to 10X the rate) and at lower cost than electroless plating, which make electroplating more suited for applications with higher metal thicknesses.
Electroplating is a line-of-sight process where metal thickness will vary over the surfaces of the part.  Edges and surfaces facing the plating anode in the electroplating tank will build thickness at faster rate than surfaces not facing the anode.
Electroplating complex shapes with deep recessed areas can be difficult; however, auxiliary anodes can be incorporated in the electroplating rack design to improve coverage in recessed features.
Avoid designs with deep recesses that can trap air or plating solution.  Cybershield engineers can work with you on this and other design issues to identify cost effective solution.
Resin Selection Key for Successful Plastic Plating Application
Generally, plateability is inversely related to the chemical resistance of the plastic resin, the higher the chemical resistance, the more difficult the resin is to plate.  The table below list many of the plastic resins that are plateable (not a complete list but it includes the major plateable resin families).  Contact Cybershield to review your plastic plating requirements and to determine if the resin you plan to specify is plateable.

Widely Plateable
ABS
Polycarbonate (PC)
PC/ABS
PEI (Ultem) >20% Fill
PPA
Fiberglass
Polystyrene
Liquid Crystal Polymer
Selected or Custom Blended Plateable Grades*
Noryl
Xylex
Xenoy
Urethane
Nylon
PEEK
PPS
Polypropylene
* Only Selected or Custom Blended Resins Can Be Plated
Not Plateable
Valox (PBT)
Polyethylene
Polyester
PVC
We're always adding to the list of plateable resins.
Contact Cybershield
to discuss your resin selection and design requirements.
An important factor in the success of plating on plastic application is the injection molded part finish. Generally, if a mold release can be avoided in the molding process, this is preferred. If mold release is required, it is essential that the mold release be a product designed for plastic parts that will be plated or painted. Typically, many water based mold releases will meet this requirement. Under no circumstances should any silicone based mold releases be utilized during the injection molding process. The silicone mold release is almost impossible to remove from the part and will negatively impact plating adhesion to the plastic part and can poison plating chemistry. Experience has shown that even using strong cleaning chemicals will not completely remove the silicone mold release and will often just spread it across the entire surface of the part. If you have any questions about mold release, Contact Cybershield to discuss your requirements and plans.
Download more information about plating on plastics technology.
All-Over Electroless Plating Plastic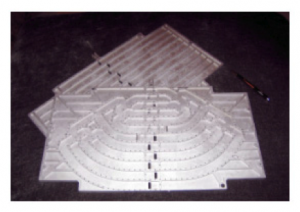 All-Over Electroless Plating with copper, nickel or nickel plating over copper are highly cost effective systems to address a wide range of engineering requirements for plastic components.
Cybershield has large scale, automated electroless plating line to provide customers with the lowest cost solution.
Parts up to 60″ x 40″ x 18″ can be plated on the Cybershield electroless plastic plating line or thousands of smaller parts can be plated en mass in large plating baskets to achieve lowest cost metal coating available to designers.
In the all-over plating process, the metal plating is deposited directly onto the plastic components. Cybershield has extensive skill and experience in plating plastics and is successful in plating plastic in all plateable grades and even some grades that the resin manufacturers list as non-plateable (see table of plateable plastics).
All-Over electroless plating plastic process offers customers with a low cost alternative to plated metal components. Cybershield engineers can tailor the finish of the plated plastic to meet the current metal components often with savings in cost as well as weight.
Cybershield offers optional electroless plating plastic coatings of Tin and Gold.
Selective Electroless Plating Plastic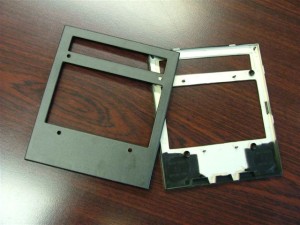 Selectively Electroless Plated Plastic is applied onto specified surfaces of a plastic part, most often an enclosure or housing but can be applied to a wide range of part designs and materials. The selective plating process is suitable for low volume as well as high volume applications and includes:
Masking the plastic part

Hand masking prototypes and low volume production quantities
Mask with custom electro-form masking fixture for moderate and high volume production quantities

Spray plating catalyst onto the areas where plating is required..
The catalyzed parts are loaded into a plating fixture and immersed into an electroless plating chemical tank to deposit copper plating onto specified areas. The chemical make-up of the catalyst draws out copper metal from of the plating solution and deposits 99.9% pure copper uniformly onto the catalyzed surfaces.
Nickel is then plated over the copper to protect the highly conductive copper from corrosion and abrasion
Typical selective plating plastic system is comprised of 10 to 20 micro-inches (0.25-0.50 µm) nickel over 80-240 micro-inches (2.0-6.0 µm) copper
Selective electroless plating on plastic attributes include:
Throughout the plating process, the parts are never exposed to aggressive chemistries; therefore, the molded-in-cosmetics of the plated plastic part are not affected, including color and texture.
Offers highly conductive surface with resistivity of 15-50 m-ohms/square

Excellent EMI shielding RFI shielding is attained, with 60-85 dB attenuation over frequencies from 30 MHz to 10 GHz
ESD protection by utilizing the plated plastic conductive coating to disperse the static charge.
Cybershield can produce selective plated parts up to 40 inches X 60 inches X 18 inches.
Plastic resins suitable for selective plating are:

ABS
Polycarbonate (PC)
PC/ABS
Ultem
Nylon/PPA

Consult Cybershield if your application requires resin outside this group or to discuss your application design requirements
Electroplating Plastic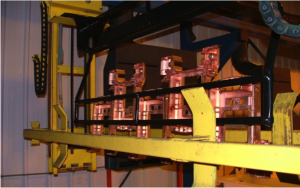 Cybershield electroplates plastic resins, steel, copper and copper alloys.
Capability complements our industry-leading electroless plating plastic know-how.
Cybershield can now deposit metal thicknesses up to 0.004″ (100 µm) onto plastics and selected metals.
Electroless plating plastic is typically limited to plating thicknesses of less than 400 micro-inches (10.0 µm), electroplating plastic can cost effectively build metal thicknesses to almost any thickness requirement you have.
Added copper & nickel thickness offered by electroplating provides superior EMI shielding over full EMI RFI range from less than 10 KHz to over 10 GHz frequency
Provides highly durable coating due to added metal thickness – offers outstanding resistance to corrosion and abrasion in harshest operating conditions, including military and industrial applications.
Decorative finishes can be applied by electroplating bright nickel and/or bright chrome to meet Class A surface finish requirements for automotive and other industries.
Refer to the Underwriters Lab web site for more information on UL listed plateable grades of plastic or Contact Cybershield for Technical Specifications, Process Capability. We can supply you with a plated plastic system that can meet your requirements.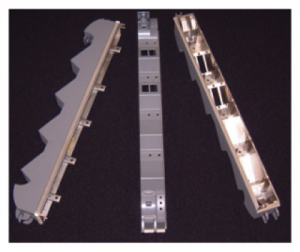 Review military specifications and industry specifications for plating finishes
Cybershield can support customer applications from initial concept, to prototyping & testing and volume production.  We can streamline your supply chain by offering Turnkey Services, including:
Injection Molding
Mechanical Assembly Services, including insert installation, part marking, decorative painting, gasket installation, mechanical assembly and more
Contact Cybershield to review your requirements or to discuss design options.  We will promptly respond to your phone or email inquiry and provide technical assistance to help you design a cost effective product design.