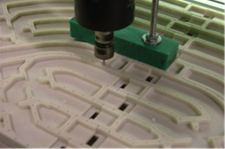 Cybershield offers its customers with full value added services to streamline supply chain, improve product quality and reduce costs.
Plastic part finishing with functional electroless plating plastic and electroplating plastic and conductive paint for EMI shielding and ESD control, decorative chrome plating plastic, and Mil Spec CARC paint
Sourcing fabricated aluminum parts and finishing with chemical conversion coating and/or electroless nickel plating
Mechanical assembly services

Decorative paint
Insert installation (heat staking or ultrasonic insertion)
Sonic welding
Gasket installation (conductive and non-conductive)
Part marking/labeling with ink jet printing or stamped ink
Precision hole tapping
Contact Cybershield to review your requirements or to discuss design options. We will promptly respond to your phone or email inquiry and provide technical assistance to help you develop a cost effective product design.
Download our brochure to obtain more information about metallized plastics and other manufacturing services offered by Cybershield.