Please note that Cybershield is a paint applicator only
and does not manufacture or sell paints.
Cybershield applies a full range of conductive paint onto plastic components, which are widely used in the electronics industry today for EMI/RFI shielding and electrostatic discharge (ESD) prevention. Conductive paint is sprayed onto the plastic using an air atomizer or airless spray equipment.
Copper conductive paint / EMI paint is widely used in higher frequency EMI shielding applications (>30 MHz). Can also be used in ESD applications.
Silver conductive paint/EMI plating paint is used in higher frequency EMI shielding applications where higher surface conductivity and shielding effectiveness is required or where copper conductive paint will not meet environmental requirements, particularly in corrosive environments. Silver paint is a much higher cost than copper conductive paint and should be restricted to applications that require the added performance.
Nickel conductive paint is used in lower frequency EMI shielding applications.
Graphite paint is widely used in ESD prevention applications as well as some EMI shielding projects.
Download Conductive Paint/Conductive Coating Specifications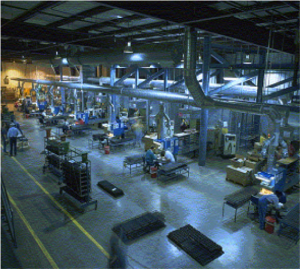 Key process attributes are tailored for each application to provide optimal EMI/RFI shielding or ESD performance including:
Spray pattern – parts can be masked by hand with tape and plugs or by using custom built paint masking fixturing.
Conductive paint type – includes graphite, nickel, copper, silver plated copper and silver particles in water or solvent based matrix.
Conductive Paint thickness – typical dry film thickness ranges from 0.001 (0.025 mm) to 0.002″ (0.050 mm)
Contact Cybershield to review your requirements or to discuss design options. We will promptly respond to your phone or email inquiry and provide technical support.
Cybershield offers customers seeking conductive paint application for electronic equipment with the following expertise and skills:
Extensive masking fixture design experience and know-how.
Experience with manual and robotic EMI paint application methods to optimize conductive coating usage and costs. Higher volume projects can benefit from one of our integrated robotic application cells. Cybershield has 8 robotic paint cells with 6-axis control.
Ability to paint parts up to 3 feet X 3 feet X 3 feet.
Cybershield can reliably apply conductive shielding paint onto a wide range of engineered plastic resins. Conductive paint adheres well to many commonly used resins while some plastic resins require the use of an adhesion promoter/primer prior to the paint's application.

Common Paintable Resins
ABS
Polycarbonate (PC)
Polybutylene Terephthalate (PBT)
PC/ABS
Poly Aryl Amide
Polyphenylene Oxide (PPO)
PC/PBT
Polyphthalamide (PPA)
Polyether Imide (PEI)
Nylon
Polystyrene (PS)
Polyphthalamide (PPA)
Difficult to Paint Resins (May Require Primer)
Teflon (PTFE)
Polyethylene
Liquid Crystal Polymer
PEEK
Polyimide
Polypropylene
Since the EMI shielding effectiveness is a function of paint thickness and uniformity, it is important to consider plastic part geometry and design complexity.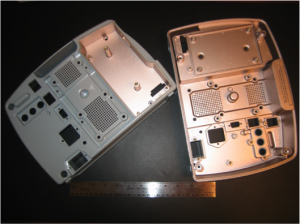 Cybershield has extensive experience with conductive coating paint application and can share its production expertise to guide mechanical design of plastic parts for successful conductive paint application. Major design guidelines include:
Avoid Difficult to Paint Tight Bosses, Crevices and Small Holes, especially small blind holes
Small through holes and blind holes can be masked during the paint application process
Cybershield can support customer applications from initial concept, to prototyping & testing and volume production. We can streamline your supply chain by offering Turnkey Services, including:
Injection Molding
Mechanical Assembly Services, including insert installation, part marking, decorative painting, gasket installation, mechanical assembly and more
Contact Cybershield for Technical Specifications, Process Capability and conductive paint technical data.