This newsletter includes and overview of several EMI shielding applications.
Shielded Connectors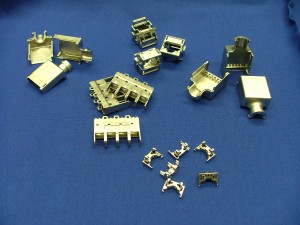 Connector designs in today's electronic equipment face the competing demand for a smaller form factor, lighter weight, improved mechanical performance, increasing need for EMI shielding, and lower cost. Metal shells, used to shield connectors, add weight, cost and space. Plated plastic connectors are being used to meet the EMI/RFI shielding requirements, reduce weight and space. Nickel thickness can be varied between 50 and 600 micro-inches (1.25-15.0 µm) to meet mechanical and environmental requirements.
Medical Electronic Device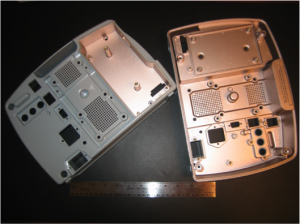 Shielding medical electronic devices is significant design issue due to the pervasiveness of electronic equipment in the hospital. Autocatalytic selective plating and conductive paint are applied onto many medical electronic device enclosures to provide EMI shielding.
Military Electronic Equipment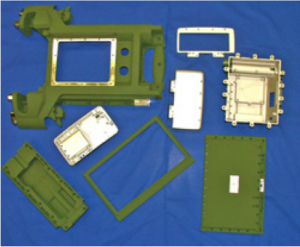 The modern day battlefield is noisy, and military electronic systems need to be shielded against EMI/RFI noise. With move to rapid force deployment, this drives the need for lightweight mobile electronic systems. Plastics have made significant inroads into the electronic battlefield. Since plastics do not shield against EMI/RFI, they are usually shielded, often with thick electroplated coatings to protect against wide EMI/RFI frequency range that may be encountered in the field. The plated plastic components can then be coated with mil-spec finishes, including latest generation water borne Chemical Agent Resistant Coating (CARC) paint.