Please note that Cybershield is a paint applicator only
and does not manufacture or sell paints.
Cybershield offers Mil Spec and Chemical Agent Resistant Coating (CARC) painting services for military equipment.
Mil Spec top coat finishes include: MIL-DTL-64159, MIL-PRF-22750, and MIL-C-85285 to name a few.
Substrates include plated plastic as well as metal parts (aluminum and steel).
CARC paint is specified for use on tactical military equipment, including ground, aviation, munitions and related support equipment for its ability to withstand the harsh chemicals used in the decontamination process.
Cybershield offers robotic spray application methods to apply the CARC paint. With our paint robots, CARC paint thickness can be precisely controlled from part-to-part and lot-to-lot.
The consistent and repeatable robotic application of CARC paint overcomes a leading cause of CARC coating failure – incorrect CARC paint thickness caused by manual application methods.
CARC coatings applied by paint robot provide extensive production capacity since paint robots not only apply a more consistent and controlled coating, they also paint parts at faster rates than possible with manual paint application.
Prior to application of primer and CARC topcoat, Cybershield can pretreat components made of aluminum (chemical conversion per MIL-DTL-81706 or MIL-DTL-5541) or steel (zinc phosphate per TT-C-490).
The table below provides listing of Cybershield capabilities and relevant military specification:

Process Step
Non-Ferrous Metal
Ferrous Metal
Surface Preparation
Clean all surfaces of soil, corrosion and weld by-products per IAW MIL-DTL-52072 (TT-C-490)
Pretreatment
Chemical Conversion coating per MIL-DTL 81706.
Chromate Conversion per MIL-DTL-5541 (Type II, containing no hexavalent chromium)
Wash Primer per DOD-15328
Wash Primer per MIL-C-8514
Anodize per MIL-A-8625
Zinc Phosphate Per TT-C-490
Wash Primer per DOD-15328
Wash Primer per MIL-C-8514
Primer
MIL-P-23377 (Epoxy, High Solids)
MIL-P-53022 (Solvent Borne)
MIL-P-53030 (Water Borne)
MIL-P-85582 (Epoxy, Water Borne)
Top Coat
MIL-DTL-53039 (Solvent Borne)
MIL-DTL 64159 (Water Borne)
MIL-PRF-22750 (Epoxy)
MIL-PRF-85285 (Polyurethane)
Available Colors per FED-STD-595
| Top Coat Color | Color per FED-STD-595 |
| --- | --- |
| Aircraft Green | 34031 |
| Green 383 | 34094 |
| Dark Green | 34082 |
| Field Drab | 33105 |
| Tan 686A | 33446 |
| Sand | 33303 |
| Black | 37030 |
| Earth Yellow | 33245 |
| Brown 383 | 30051 |
| Dark Sandstone | 33510 |
| Aircraft Grey | 36300 |
| Aircraft Black | 37031 |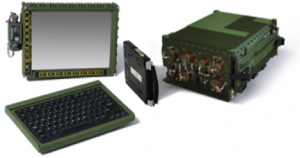 Cybershield is qualified to apply both Mil Spec primer and CARC coating through our painting services.
Download the Cybershield Brochure to obtain more information about metallized plastics and other manufacturing services offered by Cybershield.
Cybershield supports customer production requirements and streamlines supply chain with Turnkey Manufacturing Services:
Team with your machine shop vendor to produce machined aluminum parts
Chromate Conversion Coating on Aluminum (also called chem film or alodine) and Electroless Nickel Plating on Aluminum
Decorative paint application, including commercial as well as Mil Spec paints, such as CARC application
Mechanical Assembly Services
Full project turnkey responsibility where we will take your specification and will have all the components tooled and produced.
Contact Cybershield for more information on mil spec painting services and CARC paint application.