Complementing Cybershield's capabilities to apply electroless nickel plating onto plastic, we now offer electroless nickel plating on aluminum.
Electroless nickel coatings produce very uniform, hard and lubricious coatings, without an externally applied electric current. Electroless nickel plating is a process for chemically applying nickel-alloy deposits onto aluminum substrates using an auto catalytic immersion process without the use of electrode. Electroless nickel is the preferred choice among functional coatings for irregularly shaped, highly detailed part geometries because of its completely uniform deposit thickness and close dimensional tolerance capabilities. It differs from electroplating, which depends on an external source of direct (electrical) current to produce a deposit on the substrate material. Since electrical current cannot be distributed evenly throughout the component, it is very difficult to obtain uniform coatings with electrolytically applied deposits. Electroless nickel deposits, therefore, are not subject to the uniformity problems associated with electroplated coatings.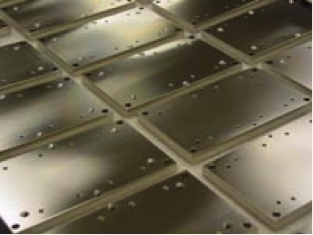 Features of Electroless Nickel Plating on Aluminum:
Lead and Cadmium free.
ROHS and ELV Compliant.
Phosphorus content of 6 – 9%.
Outstanding Corrosion Protection and Corrosion Resistance.
Bright, Uniform deposit, ideal for odd shaped and threaded parts.
Inside diameter (ID) plating on cylinders, boxes, and other complex shaped parts, good benefit to prevent corrosion on ID's.
Hardness of 47 – 53 Rc, as plated
Hardness of 65 – 72 Rc, heat treated @ 400 degrees C for 1 Hour
Wear Resistance of 16 – 20 TWI, as plated
Wear Resistance of 9 – 12 TWI, heat treated @ 400 degrees C for 1 Hour
Over 96 hours of Salt Spray Resistance per ASTM B117
Precise plating thickness, capable of accomplishing a tolerance of +-.0001″ (100 micro inches).
Instrument used to determine Electroless Nickel plating thickness is a Fischercope X-Ray, accomplishing a margin of error less than 5% using certified thickness foil standards.
Custom Masking is available for selective plating areas.
Cybershield offers turnkey capabilities to customers. We can source fabricated aluminum components at high quality machine shops, can apply electroless nickel plating with or without initial chemical conversion coating, can apply commercial or Mil Spec paints, including CARC. Additionally, Cybershield offers industry leading capabilities to dispense form-in-place conductive gaskets onto electroless nickel plating aluminum parts. We can take your project from initial conception, through prototyping and into volume production.