Chromate Conversion Coating on Aluminum is also called Alodine aluminum (comply with MIL-DTL-5541).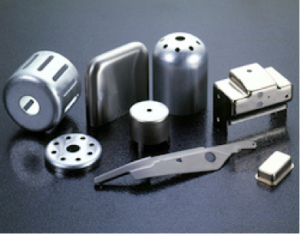 Cybershield offers a trivalent RoHS and ELV compliant aluminum chromate conversion coatings (aluminum chromate coating). Chromate conversion or chemical film coatings offer passivation and corrosion protection of aluminum components. In addition to providing corrosion resistance, our aluminum chromate services also provide a good base for plating, painting and other applications onto aluminum components, including 5000 and 6000 series aluminum alloys. Our aluminum chromate alodine aluminum services comply with the chemical film Mil-DTL-5541, Mil-spec standards, and can withstand an ASTM standard salt spray test for 168 hours.
Aluminum chromate conversion coating/alodine produces a thin coating in the range of 0.00001-0.00004 inches (0.25-1.0 µm) in thickness. Chemical conversion coatings on aluminum are amorphous in structure with a gel-like composition hydrated with water. This characteristic provides aluminum chromate conversion coatings with a unique self-healing characteristic if scratched or abraded. Metal exposed from a scratch slowly becomes covered by soluble chromate from areas adjacent to the scratch.
Chromate conversion/alodine aluminum uses include:
Corrosion inhibitor
Primer
Electrical conductivity
Electroless Nickel Plating on Aluminum (comply with MIL-C-26074, AMS-C-26074, ASTM B733 and AMS 2404)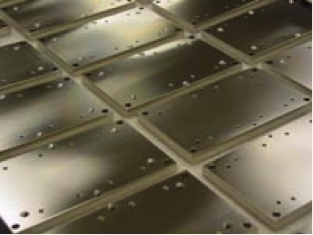 Electroless nickel plating aluminum produces very uniform, hard and lubricious coatings, without an externally applied electric current. Electroless nickel plating aluminum is a process for chemically applying nickel-alloy deposits onto aluminum substrates using an auto catalytic immersion process without the use of electrode. Electroless nickel plating aluminum is the preferred choice among functional coatings for irregularly shaped, highly detailed part geometries because of its completely uniform deposit thickness and close dimensional tolerance capabilities.
The Electroless nickel plating on aluminum process differs from electroplating, which depends on an external source of direct (electrical) current to produce a deposit on the substrate material. Since electrical current cannot be distributed evenly throughout the component, it is very difficult to obtain uniform coatings with electrolytically applied deposits. Electroless nickel plating aluminum, therefore, is not subject to the uniformity problems associated with electroplated coatings.
Features of Electroless Nickel Plating Aluminum
Lead and Cadmium free.
ROHS and ELV Compliant.
Phosphorus content of 6 – 9%.
Outstanding Corrosion Protection and Corrosion Resistance.
Bright, Uniform deposit, ideal for odd shaped and threaded parts.
Inside diameter (ID) plating on cylinders, boxes, and other complex shaped parts, good benefit to prevent corrosion on ID's.
Hardness of 47 – 53 Rc, as plated
Hardness of 65 – 72 Rc, heat treated @ 400 degrees C for 1 Hour
Wear Resistance of 16 – 20 TWI, as plated
Wear Resistance of 9 – 12 TWI, heat treated @ 400 degrees C for 1 Hour
Over 96 hours of Salt Spray Resistance per ASTM B117
Precise plating thickness, capable of accomplishing a tolerance of +-.0001″ (100 micro inches).
Instrument used to determine electroless nickel plating aluminum thickness is a Fischercope X-Ray, accomplishing a margin of error less than 5% using certified thickness foil standards.
Custom Masking is available for selective plating areas.
Cybershield is conveniently located in Lufkin, Texas, (approximately 100 miles north of Houston) and we provide electroless nickel plating aluminum service to customers throughout the United States.
Download the Cybershield Brochure to obtain more information about plated plastics, conductive coatings, chemical conversion coatings, and other manufacturing services offered by Cybershield.
Cybershield supports customer production requirements and streamlines supply chain with Turnkey Manufacturing Services:
Team with your machine shop vendor to produce machined aluminum parts
Chromate Conversion Coating on Aluminum (also called chem film or alodine) and Electroless Nickel Plating on Aluminum
Decorative paint application, including commercial as well as Mil Spec paints, such as CARC application
Mechanical Assembly Services
Full project turnkey responsibility where we will take your specification and will have all the components tooled and produced.
Our engineering team is ready to support your next project that requires finishing aluminum parts from conception through production. Contact Cybershield for Technical Specifications, Process Capability, and Application Assistance.