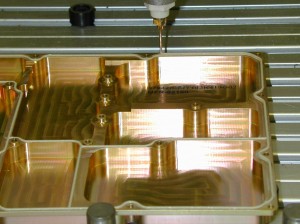 Laird Technologies has introduced its Sentry Form-in-Place conductive gasket materials.  The new product line is replacing existing form-in-place conductive gasket materials.  The new Sentry materials provide enhanced mechanical properties, increased adhesion to substrates and higher EMI shielding performance.
Sentry conductive gasket materials are one-part materals and include moisture cure (22 C and 50% relative humidity for 24 hours) and thermal cure (125 C for minimum 1 hour).  Sentry conductive gasket materials are comprised of silicone with conductive metal filler, either silver plated aluminum, silver plated copper, silver plated nickel or low cost silver plated graphite.  Generally, it is recommended to use filler with same material as substrate to minimize galvanic corrosion potential, i.e., use silver plated aluminum if applying the gasket onto an aluminum substrate.
The table below summarizes properties of new Sentry conductive gasket materials:

Property
Units
SNL60-RXP
SNK55-RXP
SNN60-RXP
Elastomer
Silicone
Silicone
Silicone
Filler
Silver Plated Aluminum
Silver Plated Copper
Silver Plated Nickel
Volume Resistivity
ohm-cm
0.003
0.002
0.005
Shielding Effectiveness
dB
>100
>90
>100
Hardness
Shore A
60
55
60
Tensile Strength
kPa
850
1300
192
Tensile Elongation
%
140
300
110
Compression Set
%
10
10
15
Adhesion to AL
N/cm2
140
200
180
Compression Deflection
at 20% Compression
lb/in
1.9
1.2
1.7
at 40% Compression
lb/in
8.3
5.2
6.4
Temperature Range
°C
-50 to +125
-50 to +100
-50 to +125
Flammability Rating
UL94
V0
V0
V0
EMI shield effectiveness over a broad frequency range provide designers with tools to control EMI emissions as well as mitigate cross talk between compartments of electronic devices. The table below provides EMI shielding for SNN60-RXP (silver plated nickel filled silicone) over frequencies from 100 MHz to 20 GHz: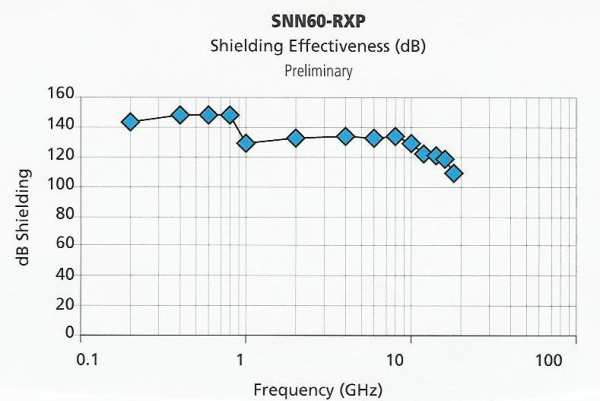 Cybershield has available inventory of many of the Sentry Conductive gasket materials for customer sampling and evaluation.
Contact us
for more information.