Managing the supply chain to produce low cost components and assemblies to meet engineering requirements needs multiple suppliers with the requisite skills or just one supplier that has all the required capabilities under one roof. For electronic equipment manufacturers, they need suppliers with capabilities including:
Injection molding
Plating plastic or conductive paint application for EMI shielding
Form-in-place conductive gasket
Decorative finishing
Manufacturing services, including mechanical assembly, hardware installation, part labeling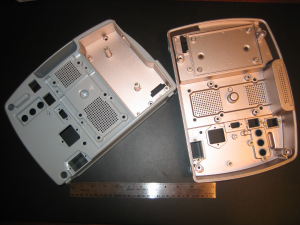 These capabilities rarely exist at one supplier and often a lengthy search is required to locate suppliers that can team together to produce the required component to customer specifications. Now one supplier offers all the capabilities under one roof. Cybershield has added injection molding capability to its industry leading capabilities for plating plastics, including chrome plating plastic, application of conductive paint, installation of form-in-place conductive gasket all to assist customer design for EMI shielding. Cybershield also offers customers with extensive engineering expertise in EMI shielding solutions (plating plastics, application of conductive paint, and installation of form-in-place conductive gasket).
The starting point in the manufacturing process is injection molding. With extensive molding capabilities, Cybershield can mold plastic parts to customer design requirements.
For EMI shielding on plastic there are options:
Plating plastic
Conductive paint on plastic
Plating Plastic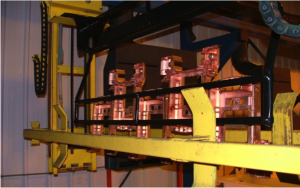 Cybershield offers industry leading plastic plating capabilities for EMI shielding. The first step in the process is electroless plating where an initial layer of copper is deposited directly onto the plastic part. Electroless plating is an autocatalytic, chemical plating process which deposits a pure, continuous metal layer. The part is immersed into a series of plating tanks, including chemical etch to roughen the surface and activation to deposit a catalyst onto the part prior to deposition of copper. The etching and activation steps impact only the outer skin of the plastic. The bulk material properties of the plastic part are not affected. Electroless plastic plating produces uniform thickness on all surfaces of plastic part, even in recesses and holes. Once the electroless copper layer is deposited onto the plastic part, additional copper thickness can be deposited as required for EMI shielding performance and/or can be finished with nickel, tin or gold to provide the functional metal coating to meet the full range of mechanical, electrical, environmental and appearance requirements. Typically, electroless plating is used to deposit thin metal coatings, from 0.00004" (1.0 µm) to 0.0005" (12.5 µm). If thicker coatings are required, electrolytic plating (also called electroplating) can be used to deposit thicker coatings of copper, nickel, tin, chrome, silver, and gold over the electroless copper plated part. Electroplating deposits at faster rates and lower costs compared to the same thickness of electroless plating; however, electroplating is a line-of-sight process that will yield wider thickness variation over a part than would electroless plating. Electroplating process can be used to deposit from 0.0002" (5.0 µm) to 0.003" (75 µm) or more metal thickness. Also, electroplating is used to produce decoratively plated plastic parts with available finishes including nickel, bright and matte chrome, gold, copper and brass to name a few.Selecting a plateable resin is among the most critical factors for a successful EMI shielding application.
Conductive Paint
Conductive paints are comprised of micron sized metal particles of nickel, copper, silver plated copper or silver blended into water or solvent based paint system. Similar to selective plating process, a masking fixture is used to control the location of the conductive paint that is sprayed onto the required areas of the part. The fully cured conductive paint thickness ranges from 0.0005" (0.0125 mm) to 0.002" (0.05 mm) depending on the paint type and EMI shielding requirement. The paint can be applied in a manual paint booth where an operator applies the paint with a paint gun or with a paint robot. The paint robot offers advantages over manual spray methods, especially in higher volume applications where cost is critical. In the robot, the spray pattern can be programmed and frozen to apply the optimal amount of conductive paint across the entire shielded surface. Manual paint application typically has lower set-up cost than robotic painting and is a good match with lower volume applications.
Conductive Form-in-place gasket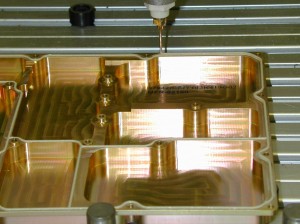 Gaskets for environmental or EMI/RFI seal are installed after plating or painting. Form-in-place gaskets, comprised of silicone with metal particle filler can be dispensed around perimeter of compartments of plastic part (or metal part) to prevent interference within the device and/or around the perimeter of the enclosure to provide an EMI seal from the external environment. The metal particles in the form-in-place gasket material are silver plated copper, silver plated nickel or silver plated aluminum. To minimize risk of galvanic corrosion between the coating and the gasket, it is recommended to match the form-in-place metal with the coating, i.e., use copper based form-in-place gasket material on copper painted applications and nickel where the form-in-place gasket is being dispensed onto nickel plated or silver painted parts. Form-in-place gaskets range in size from 0.016" (0.4 mm) height to 0.100" (2.5 mm) although it is recommended that gasket height be limited to 0.040" (1.0 mm). Form-in-place gaskets have Shore Hardness of 40-60 and are designed for approximately 50% compression in the assembled application. They can be dispensed into grooves or onto flat rails and surfaces.
Manufacturing Services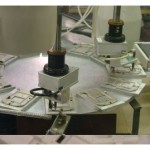 Finishing parts to customer requirements often includes installation of inserts, decorative finishing, part labeling, mechanical assembly of multiple components into one finish system.
Customer Benefits
The advantage to the customer is that all processing is done under one roof. Just one supplier to qualify ands manage. This also eliminates the time and cost to ship components from one supplier to another. Cybershield completes all the operations in one location, saving customer time and money when specifying plastic parts for EMI shielding.