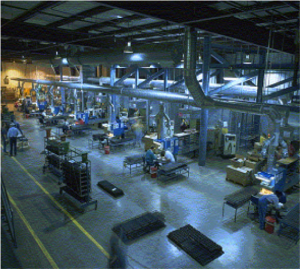 Conductive paints are comprised of micron sized metal particles of nickel, copper, silver plated copper or silver blended into water or solvent based paint system. Similar to selective plating process, a masking fixture is used to control the location of the conductive paint that is sprayed onto the required areas of the part. The fully cured conductive paint thickness ranges from 0.0005" (0.0125 mm) to 0.002" (0.05 mm) depending on the paint type and EMI shielding requirement. The paint can be applied in a manual paint booth where an operator applies the paint with a paint gun or with a paint robot. The paint robot offers advantages over manual spray methods, especially in higher volume applications where cost is critical. In the robot, the spray pattern can be programmed and frozen to apply the optimal amount of conductive paint across the entire shielded surface. Manual paint application typically has lower set-up cost than robotic painting and is a good match with lower volume applications.
The table below summarizes compatible resins with conductive paint. Difficult to paint resins will usually require primer or other surface preparation prior to the conductive paint process.

Common Paintable Resins
ABS
Polycarbonate (PC)
Polybutylene Terephthalate (PBT)
PC/ABS
Poly Aryl Amide
Polyphenylene Oxide (PPO)
PC/PBT
Polyphthalamide (PPA)
Polyether Imide (PEI)
Nylon
Polystyrene (PS)
Polyphthalamide (PPA)
Difficult to Paint Resins (May Require Primer)
Teflon (PTFE)
Polyethylene
Liquid Crystal Polymer
PEEK
Polyimide
Polypropylene
Painting Design Issues
Design Don't
Design Alternatives
Difficult to paint tight bosses, crevices, and holes.
Line-of-sight Paint Process
Eliminate crevices and small holes requiring coating.
Secondary Operations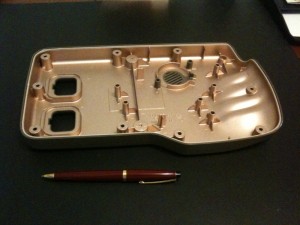 Inserts can be molded into the part or installed by heat staking or ultrasonic insertion prior to or after paint application.
Gaskets for environmental or EMI/RFI seal are installed after painting. Form-in-place gaskets, comprised of silicone with metal particle filler can be dispensed around perimeter of compartments of plastic part (or metal part) to prevent interference within the device and/or around the perimeter of the enclosure to provide an EMI seal from the external environment.
Specifying the conductive paint system includes the following elements:
Dry Film Thickness is usually defined as a minimum. If required, due to part function or fit, plating can be specified as a thickness range.
The coating resistance can be specified, either in ohms per square or point-to-point ohms resistance. In this case, paint thickness need not be specified.
Coating adhesion is commonly measured according to ASTM D3359 Standard. This standard is based on tape test and 1-5 scale for amount of coating removed during the tape test (5 is no metal removed and 1 is complete removal of the coating).