Cybershield now offers a trivalent RoHS and ELV compliant aluminum chromate conversion coatings. Chromate conversion or chemical film coatings offer passivation and corrosion protection of aluminum components. In addition to providing corrosion resistance, chromating also provides a good base for plating, painting and other applications onto aluminum components, including 5000 and 6000 aluminum alloys. Our chromating services comply with the chemical film Mil-C-5541, Mil-spec standards, and can withstand an ASTM standard salt spray test for 168 hours.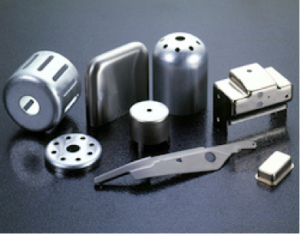 Aluminum chromate conversion coatings produce a thin coating in the range of 0.00001-0.00004 inches in thickness. Aluminum chromate conversion coatings are amorphous in structure with a gel-like composition hydrated with water. This characteristic provides aluminum chromate conversion coatings with a unique self-healing characteristic if scratched or abraded. Metal exposed from a scratch slowly becomes covered by soluble chromate from areas adjacent to the scratch.
The abrasion resistance of chemical coatings is relatively low. Coatings are reasonably durable when subjected only to moderate handling, but are readily removed by severe wear or erosion.
Chemical Conversion Process
Mechnically or chemically clean the aluminum part to have water break-free surface
Chemical conversion coating is applied by immersing cleaned parts into specially designed bath without any electrolytic properties.
Inspect coating for adhesion, appearance and if required, resistivity
Cybershield complements its chemical conversion coating capabilities with electroless nickel plating as well as paint application, including numerous Mil Spec paints, such as CARC. Cybershield can also manage the entire project from sourcing fabricated aluminum part, to chemical conversion coating, electroless nickel plating, painting, dispensed conductive form-in-place gasket and mechanical assembly.