Plating on plastic technology was first developed in the mid 1980's to improve EMI shielding of electronic devices. A number of "plateable" resins such as ABS and Polycarbonate/ABS blends were developed at that time by resin manufacturers to enable plating on plastic. Since then, there has been significant advancements in the technology. Today, a wide range of plastic resins can be plated. See the table below for listing of resins that can be plated. The top section is comprised of resins that are widely plateable. The middle section of the table includes resins that have mixed plating results – some grades within these families are plateable while some are not. Also, there are some resins, such as Polypropylene (PP), which are normally not plateable; however, if the PP is compounded with a plating additive, it can be successfully plated. Finally, the bottom section of the table is comprised of resins that are very difficult or even impossible to plate.
Plateable Plastic Resins
Widely Plateable:
ABS
Polycarbonate (PC)
Epoxy-Graphite
Liquid Crystal Polymer (LCP)
PC/ABS
Polyetherimide (PEI/Ultem) >20% Glass Fill
Polystyrene
Photo below shows range of plated connectors molded in PC/ABS as well as PEI.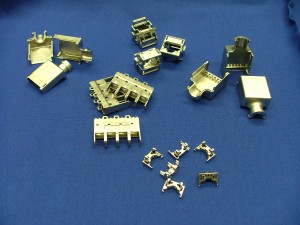 Selected or Custom Blended Plateable Grades
Note that only selected grades within these resin families are plateable. Alternatively, the plateable grades within these families may require custom blending to include plating additive in order to be plateable or they require non-conventional plating process (such as grit blasting prior to plating) to be able to plate.
Polyphenylene Oxide (PPO/Noryl)
Liquid Crystal Polymer (LCP)
Fiberglass
Graphite
Epoxy
Polyetheretherketone (PEEK)
Polyphenylene Sulfide (PPS)
Urethane
Polyphthalamide (PPA/Nylon)
Not Plateable:
Polybutylene Terephtalate (PBT)
Polyethylene (PE)
Polyvinylchloride (PVC)
It is essential that resin that is compatible with plating technology be selected. This can lead to successful application.
A good rule of thumb is that a plastic resin plateability is inversely related to the chemical resistance. The higher the chemical resistance, the more difficult to plate the resin. This is important because if you select a resin that is difficult to plate, you may see marginal or weak plating adhesion, which can lead to failures in the field when the plated plastic system is subjected to stresses from temperature changes and/or shock & vibration. If the plating has excellent adhesion when first deposited, it is likely to adhere to the plastic substrate for the life of the application even if subjected to harsh operating conditions.
Conclusion: Resin selection should be determined early in the design cycle, and designers should seek to select a resin with good plating track record. The list of plateable resins is ever changing. When new resins are developed or grades within the resin families are added, Cybershield assesses the plateability of these resins. We are continually adding to our list of plateable resins. If you have a resin that you want to use and it is not on the list or you are unsure if it is a plateable grade, contact us.
The first step to a successful plating on plastic application is resin selection. The resin in the antenna waveguide application is PC/ABS, a low cost, plateable material. This application has been in production for several years in harsh outdoor use with excellent performance and reliability.